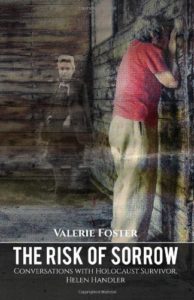 "The purpose of a writer is to keep civilization from destroying itself."
~ Albert Camus
"Write what should not be forgotten."
~ Isabel Allende
Valerie's book, The Risk of Sorrow: Conversations with Holocaust Survivor, Helen Handler, takes the reader on a compelling journey through her complex relationship with an Auschwitz survivor who, as an orphaned fifteen-year-old, lost her nine-member family to the gas chambers, was liberated by the Russian army, and had to re-start her life in Canada and re-build it in America. Beyond a Holocaust memoir, The Risk of Sorrow is an intimate conversation between two women of different religions, generations and cultures who together examine deep questions of faith, forgiveness, love and survival, forging a profound friendship in the process.
The Risk of Sorrow is now housed in the U.S. Holocaust Museum in Washington, D.C., The Wiener Library for Holocaust and Genocide Studies in London, The Los Angeles Museum of the Holocaust, The Mauthausen Holocaust Museum in Austria, and Yad Vashem in Israel.
Watch this documentary on The Risk of Sorrow, produced by TIKI Films. "The Power of Memories: Surviving Auschwitz," https://vimeo.com/109947595
Praise from readers –
"Nothing I've read in years has brought to me to my knees like Helen's life. I've cried, laughed, stood in awe."
"A remarkable tale of friendship and true courage that should be read carefully and savored, like an especially nourishing meal."
"This is a book for everyone! …a masterful conversation, told with grace, honesty and beauty."
"Succeeds brilliantly…haunting and powerful without being depressing."
"Beautiful writing of immeasurable lessons for living."
"Not just another Holocaust memoir! A well-written, educational, yet smoothly engaging story of one woman's experiences during the Holocaust and the ensuing relationship that develops with the non-Jewish writer! Emotional and words that beg not to be discarded, this is not just an ordinary memoir of the Holocaust. I read it in two days and wanted more! Read it!"
"An instant classic of post-Holocaust literature."
"The Risk of Sorrow will touch your soul and very being."
CLICK HERE to order your copy.